Third quarter 2017 highlights
Sales of EUR 1,684 million, with an increase in comparable sales of 1.3%
Total LED-based sales growth of 22%, now representing 68% of total sales (Q3 2016: 56%)
Adjusted EBITA of EUR 176 million (Q3 2016: EUR 175 million)
Adjusted EBITA margin improvement of 50 basis points to 10.5% (Q3 2016: 10.0%)
Net income of EUR 110 million (Q3 2016: EUR 51 million)
Free cash flow of EUR -5 million (Q3 2016: EUR 164 million)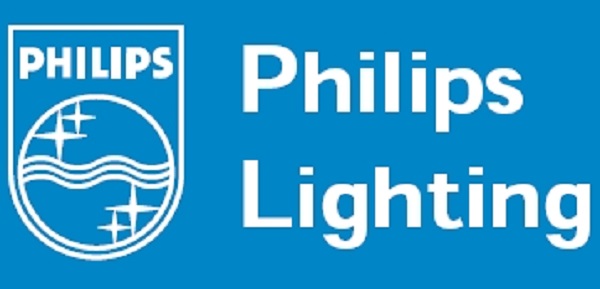 (Image: Philips Lighting)
Philips Lighting on October 19 announced the company's third quarter results 2017. "In line with our objectives, Philips Lighting returned to comparable sales growth in the quarter. For the first time in our transformation, the growth of LED and connected lighting systems & services more than offset the decline of our conventional business," said CEO Eric Rondolat. "At the same time, we continued to improve our profitability, with LED and connected lighting systems & services being substantial contributors. This demonstrates the successful execution of our strategy as we remain on track to reach our outlook for 2017."
Outlook
Achieving positive comparable sales growth in the third quarter is an important step in the improvement of the growth profile of the company. We are on track to improve our Adjusted EBITA margin by 50-100 basis points for the full year, excluding a EUR 15 million real estate gain in the second quarter. In addition, we expect a strong free cash flow in the fourth quarter based on a substantial reduction in inventories.
Business highlights for the third quarter

Professional: Reinforcing our continued leadership in connected lighting systems, we formed an alliance with American Tower Corporation to develop smart light poles, integrating multiple 4G/5G base stations with connected street lights to enable telecommunication services from multiple providers.

Professional: Demonstrating our continued leadership in architectural lighting systems, we installed numerous projects globally, including the Binhe Yellow River Bridge in China and the Galata Tower in Turkey. Our architectural lighting delivers stunning light shows as well as energy savings of up to 75% in comparison to conventional lighting and reduced operational costs when combined with control systems.

Professional: CBRE Group in Spain became the first to use the Philips SlimBlend LED luminaire, facilitating energy savings of up to 50% in comparison to conventional lighting and improving employee wellness. This sleek luminaire can be integrated with our connected lighting systems for offices, retail, and hospitality and demonstrates our ability to innovate in LED products.

Home: We unveiled Philips Hue Entertainment, further strengthening Philips Hue's position as the world's leading connected lighting system for the home. The free software update, available from December, synchronizes lighting with gaming, movies and music to improve the end-user entertainment experience. The introduction follows pilots with The Voice, Syfy and Live Nation.

Home: We expanded our partnership with Amazon to give consumers a new option to easily set up their connected home lighting systems with Echo Plus, Amazon's new smart home hub. While supplies last, customers who purchase an Echo Plus in introductory markets receive a Philips Hue white bulb that can be switched on and off, dimmed and brightened using Echo Plus's voice commands.

Home: Philips Hue also further strengthened its position in China, having JD.com join as a 'Friends of Hue' partner, enabling integration between Philips Hue and JD.com's DingDong smart home speaker. We also introduced Philips Hue luminaires designed for the Chinese market to cater to local needs.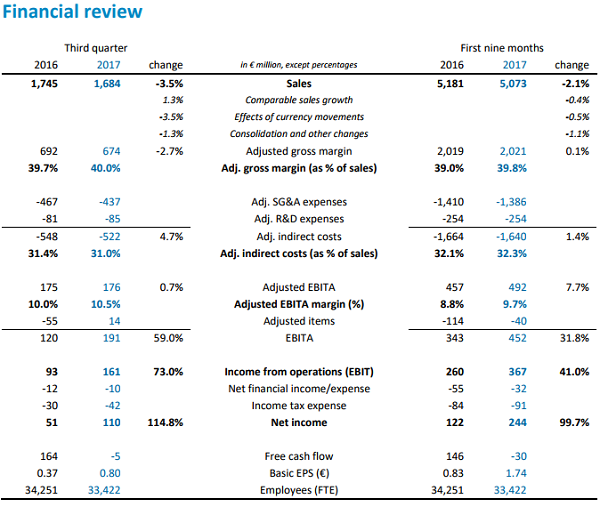 (Source: Philips Lighting)
For the full version of Philips Lighting's 3Q17 financial results, visit here.
For the presentation slides, visit here.