Smart lighting has been developed for years, but products and applications are not really used widely. In 2017, however, smart lighting has entered rapid development. According to the latest data of LEDinside, the global smart lighting market reached close to US$4.6 billion in 2017 with an annual growth rate of 95%. The market size is expected to reach US$13.4 billion in 2020.
In recent years, with the popularization of technologies, products and relevant concepts, the applications of smart lighting grow wider and more diversified, including commercial/industrial lighting, outdoor lighting, residential lighting and public lighting, etc. Among these fields, smart lighting solutions are first adopted in public and outdoor places.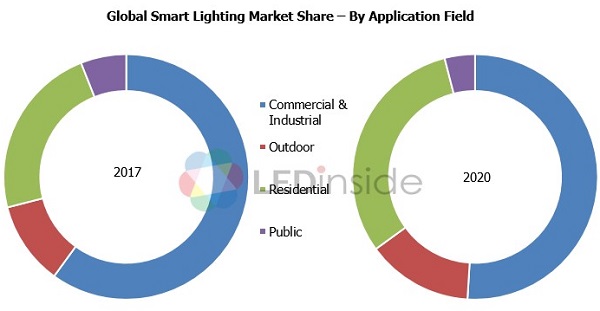 (Source: LEDinside)
At present, the expansion of global smart lighting market is still led by infrastructure construction in the public and outdoor places, of which the biggest market is the construction of "smart city".
In the early 21st century, the United States, the UK, Germany, the Netherlands, Japan, South Korea, and Singapore all carried out plans of smart city, setting off the global trend of smart city construction. Nowadays, smart cities have entered a stage of planning and construction in general. There are over 500 smart cities under construction in the world. Among them, Europe, the United States and Asia are more active to build smart cities.
According to the report of National League of Cities, about 66% of cities in the U.S. have begun to develop smart city technology, while 25% of those without any smart city systems are exploring how to implement it. For China, three batches of Smart City Pilot Project have been announced, including a total of 290 cities. In addition, the construction of a smart city will be a key step for China to promote urbanization during the 13th Five-Year Plan period.
Thanks to the support of governments and major cities worldwide who are making every effort to promote smart city projects, the construction of smart city is expected to accelerate further in the future. Therefore, the development of smart lighting, a significant part of smart city, will also be given priority in the public domain.
Smart lighting systems can improve the energy efficiency of cities, bringing immediate practical benefits to them, moreover, citizens can make use of smart lighting to get information for traffic and public spaces. For example, smart lighting solutions have been applied to street lights, which are widely allocated in cities, in order to realize automatic adjustment of brightness based on traffic, remote lighting control, fault alarm, anti-theft and monitoring of street lamp power cables, remote meter reading, etc. The application of smart lighting can significantly save power, improve public lighting management system, and save maintenance costs. This is why smart lighting has attracted increasing attention in city construction.
Although the smart street lights are still in the early stage of development, projects have been carried out in the United States, India, the Middle East, China, etc. to promote the use of the smart street lamps. Among the trend of smart city construction, the market of smart street lamps will have a bright future. According to LEDinside, outdoor lighting applications have accounted for 11% of the global smart lighting market in 2017.
In addition to smart street lights, smart lighting will also gradually penetrate into public places such as stations, airports, underground stations, underground parking lots, schools, libraries, hospitals, gymnasiums, museums and so on. According to LEDinside, public lighting applications have accounted for 6% of the global smart lighting market in 2017.
Industrial and commercial applications take a 60% share of global smart lighting market
After its popularization in the public places, smart lighting has been increasingly accepted in the society. Moreover, digitization brings new business models and value enhancement, making industrial and commercial lighting the biggest area for smart lighting applications. LEDinside's data show that industrial and commercial lighting accounted for 60% of the global smart lighting market in 2017.
Smart lighting plays an important role in industries, which have strict requirements of lighting. Industrial lighting is mainly used in large single- and double-storey buildings in factories, which have high power consumption and more concerns on industrial needs and safety. Lighting in plant buildings can be connected to external controllers, while the number of switches, time period of lighting, and brightness can all be set by smart lighting system. As for lighting outside the plant, it can be automatically adjusted according to the brightness of natural light. Indoor lighting can also be adjusted based on different needs, changes of season and weather etc., so that the lighting will be human-centric, and can assist in operation, save energy, and avoid dizziness.
With the development of science and technology, industrial lighting has become more and more smart. For example, major Chinese E-commerce companies, including Jingdong, Tmall, Amazon (China) and Dangdang, have set up their own smart warehouses in major cities. They use high-quality warehouse lighting systems to speed up delivery to attract customers. The smart lighting systems not only improve the efficiency of warehousing and logistics operations, ensure the safety environment of smart storage, but also reduce maintenance costs and operating costs of logistics enterprises.
LEDinside notes that, the global industrial lighting market will reach $US 3.934 billion by 2018, while the combination of smart control and industrial lighting will change the way of using lighting devices in industrial areas. The changes will also substantially increase the added value of lighting products and provide long-term growth momentum to the industry.
As for commercial lighting, it focuses more on energy saving and social benefits. For instance, in commercial buildings, the lighting systems always work for over twelve hours throughout the day, resulting in huge power consumption. Therefore, smart lighting can be used to save energy. The large number of lighting needs also lead to applications that combine other smart technologies. For example, LED lamps combined with visible light communication technology can achieve precise positioning of, which can help stores in product promotions. Currently, commercial lighting systems are also undergoing large-scale upgrade to smart ones.
Smart home lighting appears as a new opportunity
It is undoubted that smart lighting can improve life quality, work efficiency, and facilitate better management. With the improvement of living standards, the application of smart home lighting will be more popular, and will bring more opportunities for the lighting industry.
As a starting point of smart home, smart lighting will have rapid development in smart home market. Over the past few years, the development of smart home lighting market is limited due to the lack of mature technology and promotion. But now, the development of smart home lighting has taken off, indicating a trend of smart-controlled lighting system. More and more applications of it will appear in residential buildings in the future.
According to LEDinside, residential lighting accounted for 23% of the global smart lighting market in 2017, and the share will rise to 31% in 2020. LEDinside believes that smart home and smart lighting will promote and facilitate each other, so smart lighting in residential fields will have the fastest growth in the next few years.