During Display Week 2018, many big giants have been simultaneously releasing Mini LED backlight products. LEDinside found those Mini LED panels majorly adopt direct-type local dimming and support HDR mode, making the vivid contract ratio, which can compete with OLED panel.
Especially, Mini LED backlight applications include all sized displays from the smallest VR devices, mobiles, notebooks, automotive displays, to TVs. In addition, LEDinside also found that only Korean brand vendors did not showcase Mini LED backlight products, and we speculated that that might because OLED panel technology of Korean brands are mature and Korean brands would like to leverage obvious advantages in all display sizes, especially in automotive display, which is the focus of the exhibit.
Hence, LEDinside observed that LCD camp plans to utilize Mini LED backlight technology to extend product life cycle. In the near future, LCD camp will use Mini / Micro LED technology to compete with OLED camp. LEDinside summarized the Mini LED backlight applications and brands as below.
AUO: Mini LED Backlight Solutions Include All Sized Displays
AUO is the most aggressive brand in the exhibition to show Mini LED backlight products from the smallest VRs, mobiles, notebooks and TVs.
AUO released 2-inch VR display and adopted LTPS panel with resolution 1440 x 1440 and 1000 PPI. By supporting 1024 dimming zone and HDR mode, VR display can present extraordinary picture quality. According to LEDinside survey, active driver is adopted by AUO's VR panel, which can separately light up in such small screen.
In terms of mobile backlight, AUO showcased 6-inch mobile, which thickness of backlight module is 1.1mm and thickness of system is 1.8mm. Mini LED backlight differentiates into 48 zones, contrast ratio goes up to 100,000:1 and brightness comes to 600cd/.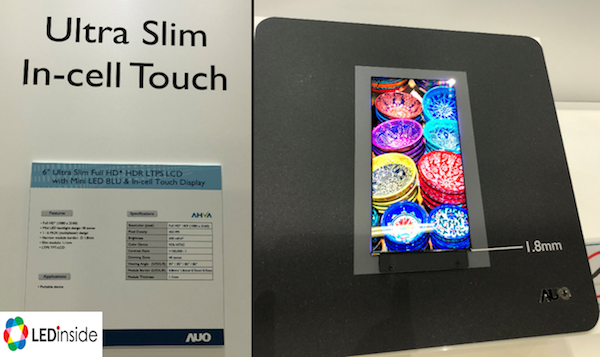 Meanwhile, 15.6 inch 4K HDR LTPS panels are suitable for notebooks, adopting 240 zones. Therefore, the contrast ratio increases to >100,000:1 and brightness accelerates to 1000 cd/. It is estimated that Mini LED usage volume shall be large.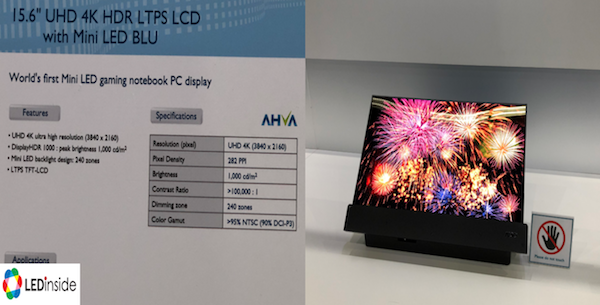 JDI Demonstrated Automotive Display, With Direct Type Backlight Technology
Japanese Maker JDI demonstrated 16.7 inch curved automotive display with direct backlight solution. Because JDI adopts 104 dimming zones, the brightness can rise to 800 cd/. LEDinside observed that the product can make a brilliant presentation on color contrast performance, even the complex environment lighting around.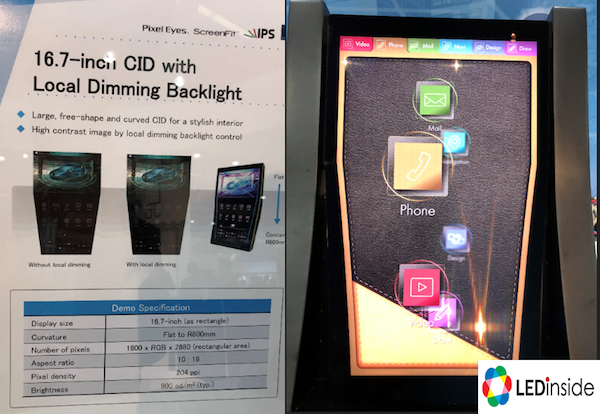 BOE Presented Ultra-High Contrast UHD Display
BOE presented 27 inch UHD, with brightness 600 nits and contrast ratio up to 1,000,000:1. According to LEDinside survey, 27 inch UHD display adopts 1000 zones Mini LED backlight and it is estimated that the Mini LED usage volume is high. Furthermore, BOE also presents 5.9-inch mobile display with the thickness is merely 1.4mm.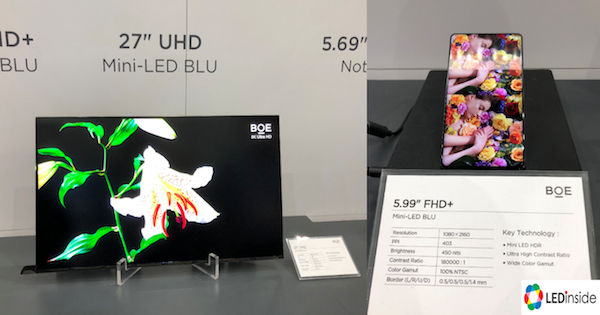 Tianma: 6.46-inch Mobile Display Supporting HDR Function
Tianma presented 6.46-inch Mini LED mobile display at exhibit, with local dimming zones of 265 and contrast ratio of 20,000:1. In order to reduce the module thickness to 1.5mm, Tianma uses nearly 10,000 Mini LED for the backlight. Definitely, there is a significant increase in picture performance and color contrast.